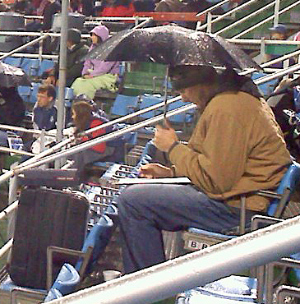 A three-run fourth following four rehab innings from Chien-Ming Wang helped the Potomac Nationals snap a six-game skid with a 4-3 win on a rainy Saturday night.
Wang threw 49 pitches and gave up a run on four hits, as the Pelicans were keying on his sinker and were able to make the most of the ones that didn't sink. Wang, however, was clearly working on his breaking pitches, and those they couldn't touch with the last of this three Ks coming on a caught-looking bender. He cleanly fielded both chances he got — a leadoff bunt in the first and a 1-6-3 double play in the second.
Unlike the night before, the P-Nats had hits in six of eight innings and pounded out 11 total. Zach Walters led the lineup with a 3-for-3 night, while Randolph Oduber, Michael Taylor and Justin Bloxom each went 2-for-4.
Taylor and Bloxom keyed the three-run fourth with back-to-back singles before big man Kevin Keyes smacked a 398′ flyball off the 400′ CF wall to drive in the first run. Wade Moore drove in the second with a sac fly to left and Oduber completed the rally with an opposite-field single to right.
Matt Swynenberg was not the first man out of the 'pen, as Trevor Holder took the ball to start the fifth (as the pic above shows, this was the plan all along, as it's custom for the starter for two nights ahead to track pitches) — a move no doubt also influenced by the forecast, as it looked like the game might be halted at any moment from the 5th to the 7th.
Holder kept the ball in the yard, retiring eight straight before giving a double, a single, and a walk with two outs. He escaped the jam with a little help from Walters, as the shortstop combined with Blake Kelso on a close play at second to end the threat.
Cameron Selik was brought on in the 8th to close out the game but the Pelicans would not go gently in to the chill of the night, leading off both the 8th and the 9th with doubles. Selik stranded the first two-bagger with a grounder and two whiffs, but let in the second with an RBI single. Myrtle Beach would get the tying run to third on the next two outs, but couldn't bring him in as Selik struck out his third batter to end the game.
The two teams will play the rubber game this afternoon, with Swynenberg (1-1, 4.50) expected to start for Potomac against the Pelicans' Roman Mendez (1-2, 7.23)