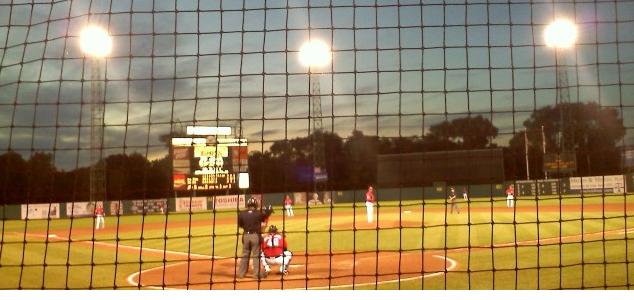 While we await the news on Prince Fielder, I thought I'd dust off this classic for an "encore presentation." Unlike last year, you can now visit the "Road Trips" tab to see some pics from the past two summer sojourns. This piece was actually the first one I filed for the site back on January 5, 2010 and reruns with some, um, minor edits.
One of the joys of following minor-league baseball is going to see your favorite team on the road. As a fan of the Potomac Nationals, I've been to the stadiums of all seven opposing teams in the Carolina League, and have visited the Nationals' affiliates in Auburn, Hagerstown, Harrisburg, and Syracuse (pictured above). With the move of the Kinston franchise to Zebulon (Carolina Mudcats), I have to make another trip to North Carolina this summer to maintain the claim. Oh, the horror!
With the recent cold snap in the D.C. area, I thought I'd share some of my tips for taking and making the most of a baseball road trip, to help ease the time until pitchers and catchers report to Spring Training.
Take The Interstate
There's nothing wrong with taking the secondary route to get there, especially if you want to see the countryside. But the Interstates are your best bet because they're faster, there are more places to stop for food and fuel, and should you have car trouble, you're a better position to get the help you need quickly. Also, quite a few teams are situated close to the freeway anyway (e.g. The Frederick Keys).
Consider The Dominant Travel Pattern
My favorite night to shoot for is a Saturday night. People that are going to the beach or the mountains are likely already there, so you're not fighting them. If you must travel on a Friday, try to leave either mid-morning or mid-afternoon, i.e. after rush hour or after lunch. Likewise for Sundays, watch out for afternoon games that will have you on the road between 5 and 8pm, a.k.a. when the weekend throngs are coming back. This is why some teams have opted for a start time of 4 or 5 pm — it's not quite as harsh on the players, and enables the opposing team to leave with some daylight.
Parking
It's an overlooked detail, so do your homework — especially with clubs in older ballparks or teams that are very popular. If you're able to walk, think about the money you'll save if you park a few blocks away or more importantly, the time you'll save as you walk past the folks jockeying to get out. I like to look for libraries and schools for this strategy. One notable exception is…
Promotions
…Fireworks night. They're great for packing them in, and most people stay. Translation: While the masses ooh and ahh, you can make a break for your car and get out ahead of them. You can use the promotions calendar two ways: To get the freebies you want, or avoid the folks that care more about the giveaway than the game (e.g. bobbleheads).
Midweek Day Games
These are big moneymakers for minor-league clubs. They're often dominated by schools and/or summer camps, but they almost always sit in the cheap seats. Despite the crowds, it seems that most venues are shorthanded, relying on the groups' chaperones for crowd control. This also makes it harder to get concessions and nearly guarantees long lines. But if you don't mind eating before or after the game, you can generally get great seats up close.
Don't Forget To Wear Sunscreen…
…and drink plenty of fluids, by which I mean water and soda. One of the unfortunate things I've noticed is that minor-league stadiums with a roof aren't being built anymore. To me, that's penny-wise and pound-foolish because a roof provides cover from both the sun and the rain. Maybe that's part of the reason why I love the WPA-era parks so much, but I can't help but notice that in the places where there is a roof, people tend to stick around when the elements aren't favorable. For everywhere else, it's a good idea to notice where the shadows fall and try to get those seats when the weather will be a factor.