Let's get this out of the way: AAA is the highest level of the minors, but it's not where the best prospects are found. (In a related story, there is no Santa Claus, Easter Bunny or Great Pumpkin).
Rather than repeat why this is, I'll refer you to last year's Syracuse review and summarize it. Triple-A is now primarily where teams keep their marginal players active and ready to fill in holes, and secondarily to finish prospects until they're ready and/or needed.
The thing that stands out the most for me about 2011 Chiefs is how the likes of J.D. Martin, Yunesky Maya, Craig Stammen, and Garrett Mock might have been part of the DC rotation in April instead of Syracuse just a year or two ago. I know that sounds harsh, but that's the reason why the Washington Nationals were a last-place team for three straight seasons before finishing third in 2011. You don't win with pitchers that would be unlikely to be starting (or even in the majors) for another organization.
Of course, close behind is how four players are now on the verge of "graduating" from prospect status, even with an improved parent club. Under the previous regime, we might have seen Brad Peacock, Tommy Milone, Steve Lombardozzi, and Chris Marrero playing, if not starting, in August (or even July) instead of September. Granted, this might be an apex of sorts, but it's certainly pleasing to see young talent making it to Washington more on merit than need.
With that, let's follow the format I've been using for the previous season reviews, taking a look at the team vs. the International League, then drilling down to the players. The one difference, however, is I'll focus only on the players who are league-average age or younger (~27) and in the upper half or so in usage (~150PA or ~30IP).
HITTING



PITCHING



To no one's surprise, the Chiefs were 13th in runs scored and 14th in hits collected, despite finishing 6th in on-base percentage. As you can deduce from the sub-but-not-far-off-from-.500 record, Syracuse allowed the fifth fewest runs and the least walks in the I.L., which was further aided by having the league's second-best defense both in terms of errors committed and fielding percentage.
Still, the initial reaction I had was that the numbers were better than expected. Instead, as you can see, most were right around the league norms. I think in some ways, this is what doing these season reviews is for: Checking the final numbers to see how the teams really stacked up. I was also pleasantly surprised to learn that the team was younger than average for both the bats and the arms, even with 28- and 29-year-olds in the starting lineup and rotation (the aforementioned foursome on the verge was the offset).
With that, let's examine the 27-and-unders that were in the top half in terms of usage for Syracuse. Full statistics for the team can be found here.



The Matt Antonelli fans may be permitted to crow — offensively, he was well above average with a triple-slash of .297/.393/.460. The problem is that those 19 games at shortstop were the first 19 he played as a pro, and he was definitely substandard there. The majority of his career has been as a second baseman, so one has to wonder if he can remake himself as a third baseman. But I also don't think we should deduce that the Nats didn't (or don't) want him back; it might be more fair to presume that he feels like he's blocked, and certainly it's his right as a MLFA to go elsewhere on his quest to make it back to the show.
Marrero and Lombardozzi aside (and to a lesser extent, Jesus Valdez and Jhonatan Solano), you're mostly looking at a collection of minor-league veterans much like Harrisburg. I know Corey Brown has some supporters here, too, but one has to wonder if he's merely a younger version of Roger Bernadina in the eyes of the front office. As of this writing, there are six open spots on the 40-man roster and not a lot of tough decisions on who to protect (Norris and Moore seem likely to get added, but for all the others a case can be made for exposing them to next month's Rule 5 Draft). Given Rizzo's proclivity to protect the guys he's acquired via trade (*cough, cough* Mock, Chico) coupled with his unwillingness to make a roster move until forced, Brown will likely be "safe" for the immediate future.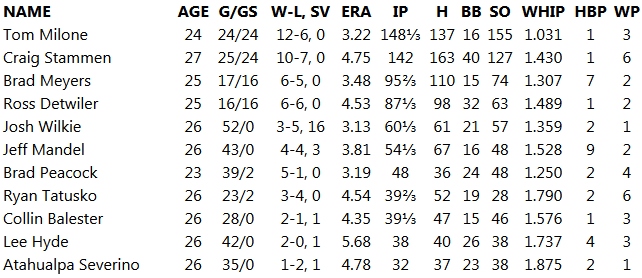 There are a lot of names that people might recognize in this group. That's because nine of this eleven are homegrown. Three of them were in the Nationals rotation in September and will battle for a spot in April. A couple more have bounced back and forth between AAA and MLB, initially as starters, subsequently as relievers. A couple more are probably wondering what they have to do to get that chance.
This time next year, it wouldn't surprise me if less than half these guys are still with the organization, majors or minors. I'm not even counting Adam Carr or Cole Kimball, both of whom were in the AFL this time last year, pitching their way onto the 40-man after years in the system. Now, they're both recovering from surgery, perhaps even wondering if they've had their Moonlight Graham moment… even if in all likelihood, they'll be back in Viera next Spring one way or the other.
THE OBLIGATORY TOP FIVE
Like last year, I have to do a singular list because they're just simply aren't that many candidates. Four of them are pretty damn obvious. The fifth may as well be a coin toss, so I'll let you know who was the "tails" with an honorable mention, then we can discuss in the comments. Without further ado…
1. Brad Peacock
2. Chris Marrero
3. Steve Lombardozzi
4. Tommy Milone
5. Corey Brown
HM: Brad Meyers