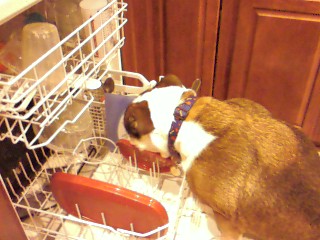 We're back. As much fun as it might be to blame this on, say, a Bryce Harper fanboy or an aggrieved autograph whore, the problem was between the chair and the keyboard. In one of my past jobs, the design folks used to say that I knew "just enough HTML to be dangerous." But clearly not enough to solve this problem quickly. I even had my IT guy take a look under the hood (right), but when it didn't have any food scraps, he lost interest.
In layman's terms, when I upgraded my WordPress software to the latest and greatest version, the theme wasn't compatible. Hence the new look & feel.
For the immediate future, we'll probably have fewer pictures, but once I figure out how things work, we'll try to get back to the way things were. Unfortunately, that may have to wait because on Thursday, I'll be hitting the road for a five-day trip through Pennsylvania & upstate New York for my annual baseball roadtrip (last summer it was the Appalachian League), which will include stops in Syracuse and Auburn. That means the news & notes are probably going to be a little more bare-bones while I'm on the road (SoulDrummer is also going to be away at roughly the same time).
My apologies to those who came here and saw gibberish. And I'm glad some folks reached out via Twitter (@nats_prospects) to express their dismay. Please bear with us while get used to the new digs. And please keep us part of your work avoidance daily routine.