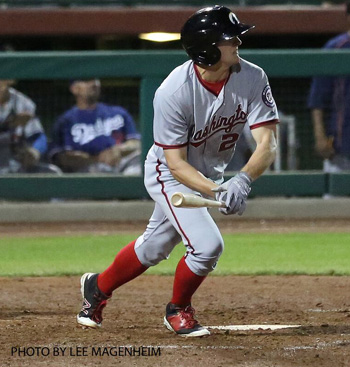 It was a light night for the Nats in last night's 8-7 loss by Glendale to Scottsdale.
Andrew Stevenson was the only prospect to appear, as the 22-y.o. started, batted ninth, and played left field for the Desert Dogs. At the plate, he went 0-for-4 while grounding into a double play. In the field, he had two putouts and fielded four singles.
The loss drops Glendale to .500 with a 2-2 mark. They'll close out Week 1 with a home game this afternoon against Salt River.
# # #

BA TOP PROSPECT LISTS
Despite having exhausted his rookie eligibility – the generally accepted, least arbitrary way to end prospect status – Baseball America continued its practice of ignoring this standard when it suits them to name Trea Turner the #1 "prospect" in the International League. A.J. Cole, who turns 25 in January, came in at #20.
TRANSACTION UPDATE
Still the slow season as folks await the World Series to end for full-fledged free agency to begin…
• Signed – OF Yadiel Hernandez (scouting report)
• Re-signed – IF Adrian Sanchez
• Released – RHP Bronson Arroyo
WINTER LEAGUE SIGHTINGS
It's too early to list any stats, but for those desperate for something to talk about…
• Mexico – 1B-3B Matt Skole,
• Venezuela – RHPs Mitch Lively, Greg Ross, and Boone Whiting

THE HAGERSTOWN SUNS
We're now in the full-season territory, where the sample sizes are larger and (Auburn excepted) there's some actual local media coverage. I have a spy in Hagerstown, who has made posts about the Suns hitters and pitchers upon my request.
Disclosure: Shawn is not a fan of Washington teams, which is perfectly fine because only the Nielsen folks consider Western Maryland part of the DC-Baltimore market. I can relate, having grown up in Western Massachusetts, where some folks were fans of NY teams (particularly in football and hockey, thanks to Hartford and its top AHL team being in Springfield) because that's who you could see if you didn't have cable TV.
The Suns got back on the horse and played winning baseball from wire-to-wire, winning the first half by slimmest possible margin (½ game) and finishing second in the second half by five games to the Blue Claws, who swept them in the first round, two games to none.
Hagerstown was the #1 offense in the Sally League (4.77 R/G), buoyed by the likes of Victor Robles and Max "For Those About To" Schrock, and got league-average pitching from a mixed bag of pitchers and league-average defense (one interesting caveat: Hagerstown allowed the least number of stolen bases while throwing out 35% of those that did attempt to steal).
Now, for the obligatory Top 5's…
TOP 5 BATS
TOP 5 ARMS
1. Victor Robles, CF
.297 GPA, .459 SLG%
1. Jorge Pantoja, RHRP
2.63/2.67/1.15, 1.65 BB/9
2. Max Schrock, 2B
.286 GPA, 22BB, 20K in 67G
2. Tommy Peterson, RHRP
2.11/2.85/0.89, 0.70 BB/9
3. Kelvin Gutierrez, 3B
.259 GPA, 19SB in 96G
3. Grant Borne, LHRP
3.34/3.35/1.20, 4.18 K:BB ratio
4. Austin Davidson, 3B/2B
.283 GPA, .473 SLG%
4. Andrew Lee, RHSP
3.71/3.15/1.24, 1HR in 51 IP
5. Ian Sagdal, 2B
.281 GPA, .303 BA, 30 doubles
5. Taylor Guilbeau, LHP
3.61/3.15/1.32, 8.3 K/9
Obviously, I'm probably giving short shrift to Rhett Wiseman again, but I also thought it'd be specious to skip over Schrock simply because he's no longer in the organization. Had I gotten to see him in person, perhaps I might have slotted him ahead of the older, less talented players, i.e. like I did with Gutierrez.
It's also worth noting that the tilt towards relievers on this list is an argument regarding performance vs. potential. The Nats kept giving the ball to the Dominican trio of Joan Baez, Jefry Rodriguez, and Pedro Avila—who started 72 games and went 23-25, 4.17 ERA combined—for a reason.
Again, this where we need to remind ourselves that development is the goal, and winning is nice but not necessary. As always, folks interested in seeing the full stats, are directed here.