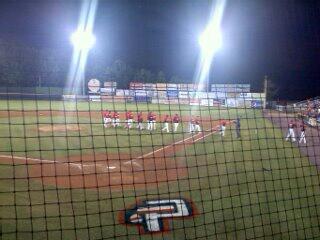 After pummeling the Pelicans for eight runs in the completion, the second game of the de facto doubleheader proved to be a pitcher's duel that ended in the first "extra inning" as Steve Perez's two-out single in the bottom of the 8th drove in Tony Renda for a 1-0 win.
Starter Austin Voth can't quite catch a break as he pitched brilliantly for a third straight start but has just one win to show for it. He allowed just three hits over six shutout innings with no walks and seven strikeouts, which puts him to the Washington minors-leading total of 94 in 88⅔ innings.
In part, that's because Potomac had not one but two runners thrown out at the plate in the 3rd. Estarlin Martinez was the first, making an ill-advised decision to score from third base on a ball hit to the third baseman while Perez was unable to score from first one batter later when Shawn Pleffner doubled into the left-field corner (though he made it close).
The P-Nats managed just two singles from the 4th to the 7th before the game-winning rally in the 8th. After a weak flyout by Martinez (who was quite busy on defense, catching six flyballs in right field over eight inning), Renda beat out an infield single and took second on a wild pitch. Perez delivered the game-winner with a single to right that was hit fast enough to get past the infielders but too slow for the outfielder to pick up and fire in to beat Renda.
The win went to Chris Manno, who struck out four over the 7th and 8th innings while walking one. Combined with a Lynchburg loss, Potomac returned to first place by a half-game over Wilmington, who will be in town next for four games tomorrow through Thursday.
Matt Spann (5-3, 4.45) gets the ball tonight against Andrew Faulkner (6-1, 2.35) in the series finale.