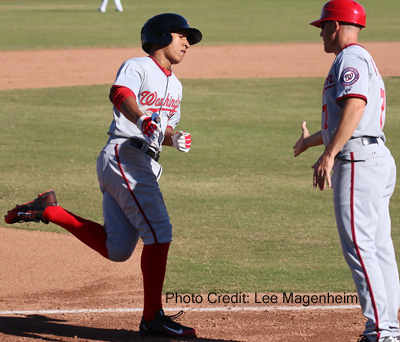 Salt River blew a 5-1 lead in the 8th and couldn't hold on to an 8-6 lead in the 11th as they fell 10-8 to Scottsdale for the second straight game.
Christopher Bostick (pictured) smacked a three-run homer in the top of the 8th to break open the until-then 2-1 game. It was his sole hit of the game, in which he batted seventh and played 2B. Defensively, he had one putout and two assists.
Spencer Kieboom got the start as the Rafters DH and went 0-for-2 with a walk and was hit by a pitch before being lifted for a pinch-runner with one out in the 8th. Bostick's home run came immediately thereafter.
No other Nationals appeared in the game.
The loss drops Salt River to 12-9, two games behind Scottsdale in the AFL East. They'll travel to Peoria today for another afternoon game, in which John Simms is listed as the probable starter.