AFL/Offseason Update: Nov. 4, 2017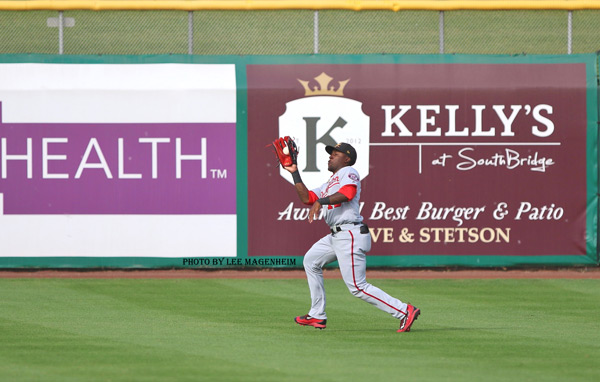 The Solar Sox were eclipsed on a one-hit shutout yesterday, 3-0 to end the week.
And because we can't have one day without (contrived) Victor Robles drama, the Nats top prospect played just one inning yesterday and exited without official explanation. He popped up to short in the top half of the inning and caught the final out in the bottom half.
Daniel Johnson replaced Robles in center field but went hitless again (0-3, 2K), as did Taylor Gushue (ditto). Kelvin Gutierrez pinch-walked and played third base for the final two innings.
Austen Williams was the first man out of the Mesa 'pen and gave up a run on four hits over two innings. He threw 31 pitches, 24 for strikes.
# # #
TRANSACTION UPDATE
Minor-League Free Agency begins at 5 p.m. on Monday. Not coincidentally, Wander Suero was added to the 40-man roster yesterday rather than re-sign as he did last November 3rd. In other news, Erik Davis declared free agency while Esmil Rogers was released.
THE BA TOP 10
Baseball America's fall SEO campaign 2018 prospect rankings began last week with the Braves, Marlins, and Mets and continued this week with the Phillies and the Nationals (paid sub to read all).
As noted in the comments, the list is skewed towards major IFAs who have yet to play a full season and the top two pitchers taken last June. Just three of the top 10 have played more than one full season, and given the current state of the big club, it's not outlandish to consider that perhaps two of those players will be on the 25-man roster by the middle of next summer.
THE SYRACUSE CHIEFS
They were bad. Very, very bad.
There's really not much more to say. The team was old, slow, and had no power on offense and the pitchers were hit-prone (both bats and bodies) and couldn't miss bats. About the only thing they weren't in the bottom third was defense, but that may be in part because the players were kept in good shape with all the balls they had to chase.
Somehow, there were enough home-grown, replacement-level players available to the big club when needed, including roughly half-a-dozen homegrown guys. But it would be foolish to infer that had there been fewer injuries in DC, the team would have been significantly better, and specious to even attempt to name/rank these players.
The best thing that could happen for all of them is for them to not be needed so they can indeed play every day and perhaps play well enough to get traded — or be more prepared for their next trip to the Show.
As always, if you're so inclined to see the full team's stats, you can find them here.